Mosquitoes Are Harmful To People
There's no question about it: mosquitoes are some of the most annoying pests people face in the spring and summer. Females regularly bite due to their need for blood protein in order to produce viable eggs. These bites result in itchy welts that are hard to ignore and can ruin what would otherwise be fun outdoor activities. However, mosquitoes are more than a nuisance; they can also be a significant threat to your health.
In most cases, mosquito bites are just itchy and annoying, and there are no other side effects. However, these many of these insects are vectors for several diseases, and they can transmit pathogens to unsuspecting people.
Some of the most common diseases mosquitoes spread include the following:
Dengue fever

Eastern equine encephalitis

West Nile virus
In other parts of the world, they also transmit yellow fever, malaria, and the chikungunya virus, which is why international travel can be hazardous if you are unprepared. The reactions people have to these diseases vary, which is why there aren't any specific treatments readily available.
Our Mosquito Control Process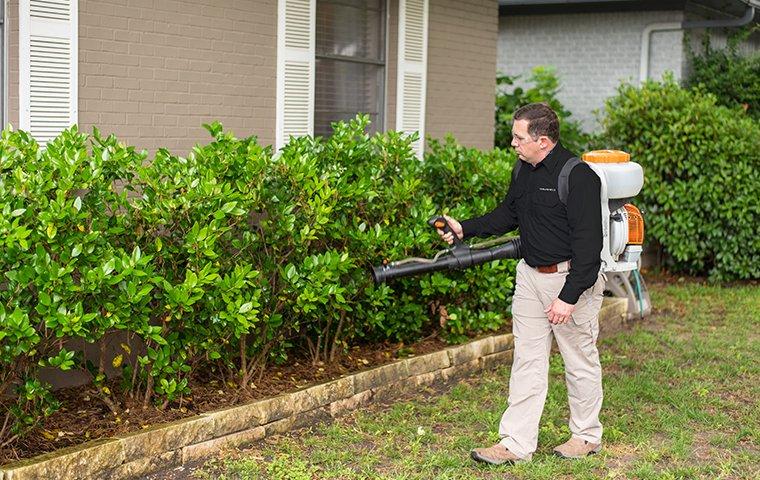 We know your home and health are two of the most important investments you can make. That's why our team at Termishield will work with you to ensure control of your property remains in your hands, where it belongs. To accomplish this, we utilize our proven mosquito treatment protocol. This approach ensures that your property remains protected at all times. Our team uses a backpack misting system to spray our treatment into the shrubbery and harborage areas where mosquitoes like to rest.
In addition, we treat standing water that you either don't want to or cannot dump out, such as birdbaths, ponds, and other similar areas. We don't believe in cutting corners, which is why we treat the entire yard during our treatments.
It's important to remember that mosquito season is traditionally May through October. With a recurring service plan, we perform monthly treatments, and, if needed, we'll come back out between scheduled visits to re-treat. For optimal coverage against pests, you can add this treatment plan to any other service plan. For special events, we also can provide a one-time treatment.
Mosquito Prevention Tips
Protect your entire body by wearing long sleeves and pants when outdoors.

Stay indoors at dusk and dawn when mosquitoes are most active.

Trim your grass and other vegetation where mosquitoes can hide.

Make sure there are no holes in your window and door screens.

Maintain your pool or hot tub cover and make sure it is not holding standing water on top where mosquitoes can lay their eggs.

Make sure you perform drain and gutter inspections and maintenance.
Protect Your Indiana Home From Mosquitoes
Mosquitoes don't have to prevent you and your family from enjoying your home or yard. With a little help form the experts here at Termishield, you can protect your home from dangerous pests. Contact us today to request your free inspection, or to get started with mosquito control services for your home!
Request Your Free Inspection
Complete the form below to schedule your no obligation inspection.