Pests in your South Bend hospital are a significant problem and may present health risks in addition to creating costly damages around the building. It is vital to invest in quality commercial pest control if you want to ensure that your South Bend hospital stays hygienic and safe from any pest invaders.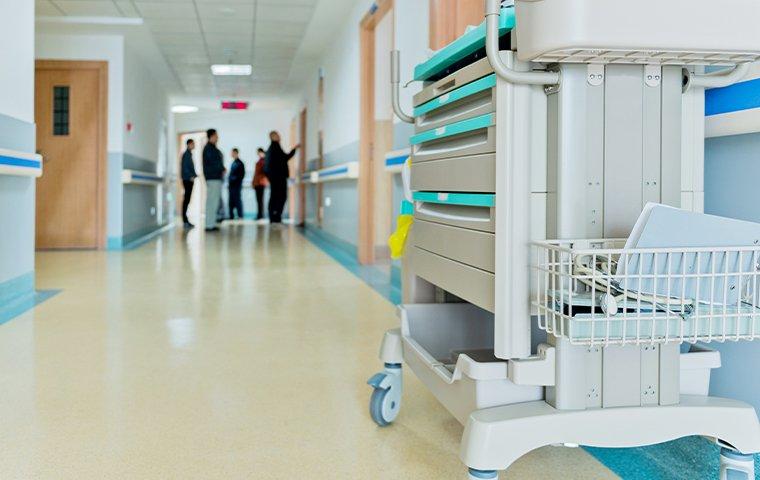 Pest Concerns In Healthcare
Healthcare centers such as hospitals, long-term care facilities, and emergency medical centers provide care for susceptible populations and need to meet specific intensive sanitation goals. However, because these places often have many individuals coming and going, food service areas, and trash receptacle areas, they are bound to attract pests looking for easy food and water or safe shelter.
Hosting pests in any healthcare facility can quickly become a major issue as these invaders spread bacteria and pathogens across surfaces, create damage to internal structures, and contaminate food storage and preparation areas. Prevention and removal of these pests are essential to keep a clean and safe healthcare facility.
What Types Of Pests Should Hospitals Worry About?
Many different pests may invade hospitals searching for accessible shelter, food, or water. The pests that South Bend hospitals should be the most aware of include rodents (both rats and mice), bed bugs (this is generally caused by visitors coming and going), cockroaches, ants, and flies. Only commercial pest control services can adequately diagnose the scale of your pest issue and provide you with completely tailored treatments.
Is Professional Pest Control In South Bend Beneficial For Hospitals?
If pests are invading your hospital, you may be wondering 'what is commercial pest control' and how this service can benefit you. We're here to tell you that professional services provided by South Bend pest control companies can indeed benefit your hospital in the following ways:
Expert inspections of your facility determine pest problem areas. This allows tailored treatment plans and shows you where weak points in your property are so that future infestations can be prevented.
Commercial pest control is the most effective and safest way to eliminate pests. This means that your hospital will be free of any infestation without delay and that your patients and staff can remain safe.
Creating a relationship with a local pest control company will ensure routine, effective treatments adapted to your hospital's needs. This means less time spent searching for professional help and more time focusing on managing your hospital effectively.
Only professional pest control services will have the equipment and skills necessary to tackle pest infestations and remove them hygienically. This is especially important for hospitals that need to remain sanitized.
How To Keep Pests Out Of Medical Centers For Good
To keep pests out of your medical center for good, you should reach out to the best commercial pest control company in the area – Termishield Termite & Pest Protection. The experts at Termishield Termite & Pest Protection will provide your healthcare facility with in-depth inspections to determine problem areas and verify the scale of a pest infestation. From there, our specialists will work with you to customize treatment solutions to your property's needs so that pests can be eliminated and your facility can remain a safe space for patients and staff alike.
Reach out to Termishield Termite & Pest Protection today to keep your South Bend hospital pest-free.