Don't Let Pests Destroy Your Investment!
Are you in the process of buying or selling a home? Termite damage and damage from other wood-destroying insects in homes can be difficult to stop, and without a WDO inspection, you could be putting your investment at risk.
Why Real Estate Inspections Are Necessary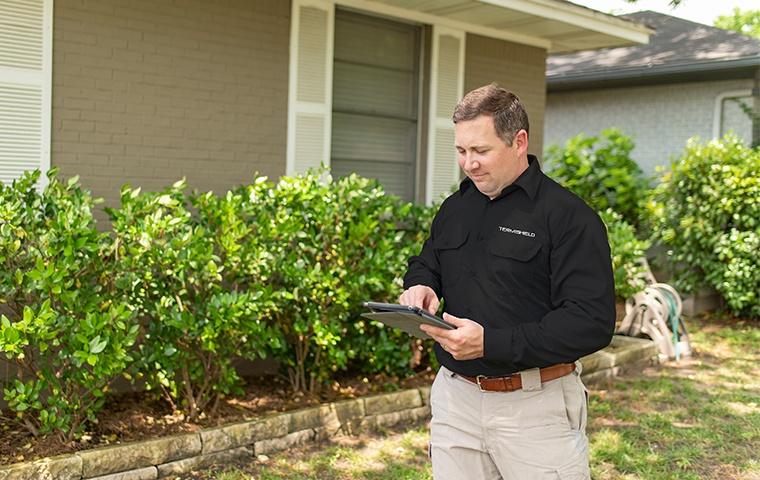 Wood-destroying organisms such as termites, carpenter ants, carpenter bees, and powder post beetles can be disastrous to the structures they infest. Unfortunately, the scope of the damage is often invisible on the surface, so it's possible that you could buy or sell a home with an active termite infestation.
If you're buying or selling a home, having a wood-destroying organism inspection done on the property is a necessity to ensure that you don't make a costly mistake. Our Professional Inspectors have the experience and knowledge to properly find, identify and diagnose wood-destroying organisms and the treatment that is needed to cure them.
Termites and other wood-destroying organisms cost homeowners hundreds of millions of dollars every year in damages. Without a wood-destroying organism inspection you could pay the price of your mistake.
Termishield Inspection & Reporting Services
Termishield will perform a wood-destroying organism inspection which includes all visible and accessible areas of the structure. If they find evidence of wood-destroying organism activity, they'll document their findings and provide an estimate for service.
Schedule WDO Inspections For Your Property
Termishield uses a team of licensed inspectors to thoroughly look over your home for signs of wood-destroying organism activity and analyze the results they find. We are a local business that provides state-of-the-art pest control services to homes and businesses in our community. Contact us today to request a real estate inspection for your property.
Request Your Free Inspection
Complete the form below to schedule your no obligation inspection.